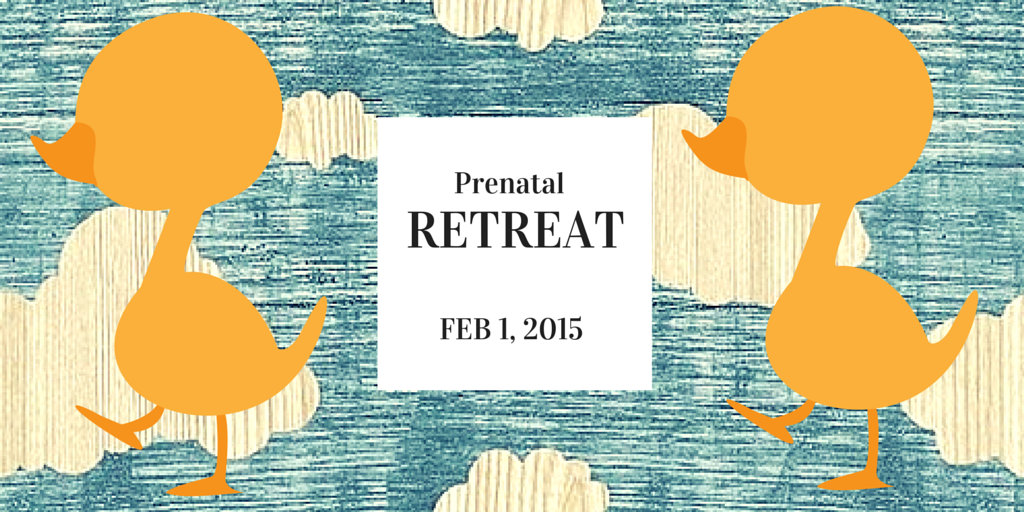 Join us for a an all day prenatal retreat on Sunday, Feb 1!
This workshop is open to 4 women who are currently pregnant or would like to become pregnant, or recently had a baby.
Family Constellations is a powerful way to clear dynamics that are either 1) keeping you pregnant 2) or existing in your family system that may affect your unborn baby.
Each woman will receive:
1) Their own personalized constellation
2) An aspect constellation with you and your partner
3) An aspect constellation with you and your unborn baby
4) 2 hours of prenatal yoga (broken up into four 30 min segments)
5) Thirty minute prenatal massage
6) Lots of teaching points
Currently being pregnant, I am so grateful that I have done and continue to do so much constellation work so I know I am giving this baby the best foot forward in life.  In my opinion, this work is more important to the baby than playing music, eating organic and all of those other things we do for the baby.
Join us for a very powerful day.  Sign up ASAP because space is limited to only 4 women.
Details below:
Who: 4 women who are currently pregnant or desiring to get pregnant
What: Prenatal Constellation, Yoga and Massage day-long retreat
When: Sunday, Feb. 1 from 10-6
Where: Cap 21 studios 18 West 18th Street – New York, NY 10011 Room 612
Energy Exchange/Family Investment: $250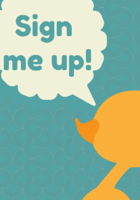 About the yoga:
Michelle Timek (RYT, RPYT) is certified in Yoga Alliance training for Vinyasa, Pre/Postnatal and Strala Studio Intensive Training for Teachers (SIT) program. Michelle specializes in Pre/Postnatal and focuses on breath and intuitive, gentle movement.  www.michelletimekyoga.com
---

Using Family Constellation Therapy to heal the past, so you can enjoy your present and future…
Are you struggling with the same old issues every year? Do you find yourself dealing with the familiar patterns over and over and over again? Oftentimes, patterns and issues we deal with are beyond us. They feel like a force, like poltergeist,with undeniable pull towards a specific behavior. We usually try to manage it based on the context of our own life, but what if it is not even our own?
Frequently, we are 'acting' out on patterns and unresolved issues and traumas in our family system (parents, grandparents, aunts, uncles, siblings, etc) that are affecting you today…and you probably don't even know it
.The good news is, we can facilitate healing in these areas, whether around relationships (single or attached), health, body-centered issues (body image, sex, intimacy, etc.), finances and career, addiction, life path, etc.
If you have tried traditional therapy, mantra work, voodoo, meditation and more and still can't seem to get over the same old junk that is holding you back, then I highly recommend this form of therapy.
Come join us and other women who are ready to heal these patterns once and for all! It won't all be painful! Delight in delicious, healthy food made with love, reminisce about the slumber party days long gone, and get out of the concrete jungle without the hassle and expense of buying plane tickets!
This is a truly unique and transformative opportunity for 12 women. In this 5-day, 4-night retreat, you will be pampered, dined and turned inside out and upside down. This is NOT your ordinary retreat. While there will be relaxing aspects (massage, beautiful property, yoga), you will also be healing (not always pretty). This is a boot camp for the mind, body and soul and is reserved for 12 women who are truly ready to let go of what's holding them back!
Are You Ready For it?

5 days and 4 nights accommodations at some adorable cottages in Cape Cod
12+ hours of Family Constellation Therapy (everybody gets a constellation)
All of your meals: Vegetarian, Healthy & Made with Love (4 breakfasts, 3 lunches, 4 dinners + snacks)
Sisterhood, rest, and relaxation away from the chaos
4 hours of Yoga (1hr daily Thurs-Sun)
One ½ hour full body massage
15 minutes of daily meditation/Reiki
Access to private beach with Kayaks, Canoes, bonfires, water trampolines, etc.
Field trip to the beach!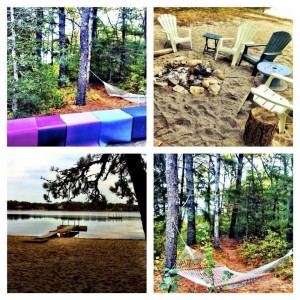 Accommodations will be in a series of 3 cottages nestled together in the woods in Cape Cod on 3.5 acres. We are located on a private beach with a nice pond for swimming, boating and relaxing. There are trails all around the area as well for walking and contemplating life

.
Each participant will receive their own bed in a shared room. Each cottage has it's own fireplace, so
explore at day, and get cozy at night. There is also a shared outdoor area with fire pit, grills and where we will do the yoga!

If you have a car, great! It is a fast and easy commute from NYC and will run you about 4-5 hours. Perhaps you can commute with a fellow retreat participant and split the gas! No wheels, no problem. There are buses that leave from Port Authority and drop off right near the house! Whatever you decide, let me know and I'll help you take care of it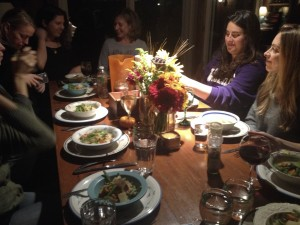 A retreat provides an opportunity to retire the apron, dish washing hands, or perhaps take-out menus, for us New Yorkers. All meals will be made healthfully and with love. If you have dietary needs that require special arrangements, please contact me ASAP so I can see if that is an option. I will make every effort to accommodate reasonable requests. All meals, from time of arrival, until time
of departure, will be provided. Meals will include bot vegetarian and meat options. Here is a tentative sample menu, and the real menu will be sent out as time gets closer:
"The food was fantastic! Perfect food for the type of work happening and openness with us being able to get tea and comfort food anytime we wanted, with their being mostly healthy snacks and I felt good about what I was eating not crap!" Emily, 2014 Retreat
am honored to have Ms. Michelle Kabler as our chef. I am so excited to have her, as she is so passionate about providing healthy, happy meals.
Her Impressive Bio: Michelle Kabler is a lover of life, people, and vegetables. Up until her mid-twenties, her experience with food was a love/hate relationship. After years of bingeing and dieting, along with an unfulfilling, stressful career in Advertising, Michelle began developing side effects of her toxic lifestyle. She called in extensive research, health coaches, meditation – and most importantly, the right foods for her body. Through overcoming her health issues, Michellewas able to heal her body, mind, and soul through food. Livened by this new relationship, Michelle completed her chef's training at the Natural Gourmet Institute in New York City to continue her journey and help her spread her passion for food and healing. She lives in NYC with her soul sisters.

This workshop will provide 12+ hours of Family Constellation Therapy. This therapy is like 10 +years on the couch trying to make sense of your life, all in a short, power-packed session. This work goes beyond your "story" and gets straight to the heart of the matter. Don't take my word for it, click here for some recent testimonials. We will be covering all of the important stuff for women (relationships (single, dating, hitched), Health issues, Financial and Career concerns, and bodily issues (periods, body image, sex/intimacy, food, etc). Every person will get their constellation done!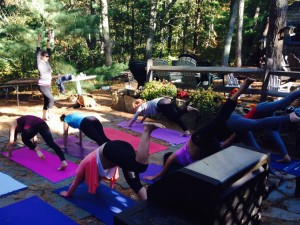 Four hours of movement yoga classes–This Mind, Body, Soul Retreat/boot camp/slumber party/love-fest, wouldn't be complete without movement classes! With such intense detox happening through the work, it is vital that you move through it and integrate. This is why we are going to do a little bit of meditation first thing in the morning to wake up, set intentions, and center
and ground ourselves for the day's love beating. We will then be doing some yoga during the day to break up and to integrate your new healing.
I am so excited to have Michelle Timek as our Yoga instructor. Michelle teaches integrated yoga styles including Vinyasa (regular and hot), Restorative, Therapeutic, Thai Massage, Power, Pre/Postnatal and Geriatric around the Jersey City-NYC-Hoboken metropolitan area. She has a special talent for guiding beginners, although people of all ages and stages in their practice can benefit and expand their practice. In any given class Michelle's magnetic personality will have you hooked with her easy, breezy, lighthearted and charismatic approach. She will help guide you from the inside out so YOU can freely discover and explore into your own body with ease of movement and ease of mind using her "slow-strong-steady" approach. Students boast of physical strength and flexibility gained, a greater sense of overall balance and awareness inside and out and overall feel fantastic while having fun! Michelle Timek (RYT, RPYT) is certified in Yoga Alliance training for Vinyasa, Prenatal, Postnatal and Strala Studio Intensive Training for Teachers (SIT) program. www.michelletimekyoga.com

We did say retreat, right? We have to put something spa-like in here so you don't leave without some physical TLC! Each participant will receive one ½ hour body massage designed to release tense and sore muscles and help facilitate detoxification. You will be relaxed and serene…until we begin the next workshop We will also be doing a little bit of group Reiki everyday in order to restore your life-force energy.
I am thrilled to have Jesika Homeijer Wachter as our massage therapist. Jesika is a NY state licensed and nationally certified Massage Therapist. Along with being a Reiki Master and Certified Infant Massage Instructor she is also working to become a Certified Lactation Consultant. She is a Momdoulary Method trained Doula as well as a Parenting Preparation Coach. She was recently married in the Catskills of NY and in her spare time she enjoys playing with her puppies, reading, cooking, dancing and hiking!
Make new friends, but keep the old, one is silver and the other gold. This is Camp for grown-ups. Instead of making arts and crafts, we will be making huge strides in our lives and supporting others in the process. Mingle, network, support, cry, indulge. This work bonds like none other and I am sure you will make long-lasting connections! Every retreat, the women bond on such a deep level and they STILL keep in touch years later!
"The relationships that are created during this time are invaluable and how we are not alone in the pursuit of being joyful". Lisa, 2013 and 2014 retreat Participant!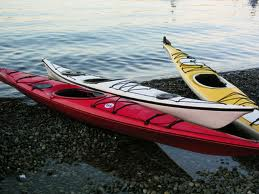 Free time. You will have a long block in the afternoon for free time to hang out in nature, go to the beach, go to a spa, journal, go boating on the pond, ,walk on trails, lounge on the hammock or just decompress on the private dock or beach.
"I found you because I looking for some info,anything to help me with my period and one of the girls who's blog I found had a blog talk show who blasted me the info for your retreat…. You reconnected me with the strength of the women in my family, my legacy, my reality…. That just hit my in the most profound way. The strength of the women in my life has become my saving grace. And the very day I embraced that I got my first what I consider a real period since I started my biz! You are the best! I don't think any of the makes any sense, but I love you! Thank you! Can't wait to see you! " RS, 2013 and 2014 Retreat Participant!

$1300
Super Early bird until July 15-$1000
Until Aug. 15-$1100
Until Sept 15-$1200
Oct. 15-$1300
**There is a 10% cash discount
*If you really, really, really want to come, but need a payment option, contact me!
Refunds: Up to 2 weeks before retreat (only get back ½ of what you paid).
EMAIL ME AT NATALIEBERTHOLD@GMAIL.COM TO SECURE YOUR SPOT!
I am so happy, Natalie's Retreat has such a profound effect on me. Thank you for a weekend I will never forget. I will hold you, all the fantastic woman, & memories in my heart for a lifetime. You have such a gift, & I sincerely thank you for changing my life. xoAmanda, 2012 Retreat Participant

I feel like myself for the first time! And I belong now, I have always belonged, exactly where I'm at, and exactly how I am. I don't understand what went on during our constellations, but it has been one of the greatest blessings in my life. It's like a light inside me, that fills me up completely, and connects me to everything and everyone with nothing less then the deepest love I have ever felt or will ever understand. I've felt it before, briefly, and I've laid down my life for anything that brought it into my life… But I've always sensed it as something greater then myself and outside of me. I'd never experienced that as coming from within me, not like that, and meditating on it just letting it be what it was for the first few weeks; I can tap into it any time I want it now. I can basically plug back in and just be.
R.S., 2013 Retreat Participant

I thought it was so very valuable – it was an eye opening experience I never thought I could feel or imagine – so much that i got my brother into it! You really get to the root of it!
F.P. 2013 Retreat Participant

Natalie is an amazing healer and her retreat was unlike anything I've ever been to. Our group radiated supportive energy for each other, which helped deepen the healing experience. Afterwards, I experienced positive shifts within myself and my relationships with others. This retreat is for anyone looking to release and shift old patterns that are not serving their growth. It's extremely powerful work that will change your life for the better!
Christina, 2012 retreat participant

I found you because I looking for some info,anything to help me with my period and one of the girls who's blog I found had a blog talk show who blasted me the info for your retreat…. You reconnected me with the strength of the women in my family, my legacy, my reality…. That just hit my in the most profound way. The strength of the women in my life has become my saving grace. And the very day I embraced that I got my first what I consider a real period since I started my biz! You are the best! I don't think any of the makes any sense, but I love you! Thank you! Can't wait to see you!
RS, 2013 and 2014 Retreat Participant!

Natalie,I wanted to reach out and thank you for all of your wonderful support throughout last weekend. I've seen so many shifts and growth in my own life, and I know others are experiencing much of the same.
Lindsay, 2012 Retreat Participant