MO' MONEY MOMMY
6 Weeks to A Better Relationship with Money (which equates to Mo' Money)
Mo Money Mommy is a revolutionary 6-week program designed to heal, once and for all, your money story.  This is unlike ANY other money program or coach out there and is tailored specifically to YOU! You are a snowflake and so is your money story.  In my work with clients on money, many of them actually have a negative or ambivalent relationship to money due to many family dynamics (hence the title) in the past.  If this is the case, no amount of money manifesting or mantras will work!

Have you always wanted a super easy, simple, yet powerful way to heal yourself and others? Ever thought it would be cool to supercharge your food and water, your bed, your dog's and baby's food, cleanse a room, charge your jewelry, your vision boards, your skin products, your websites, you name it? Well, then Reiki is perfect for you. Gone are the days when Reiki was used only by the villager healer… EVERYONE can use Reiki because it is benevolent life force energy that passes through you! THE possibilities are endless!CLICK HERE TO LEARN MORE
---

A radical step-by-step online course designed to get you back in flow (where the sun don't shine) by looking at and healing family and ancestral dynamics.
---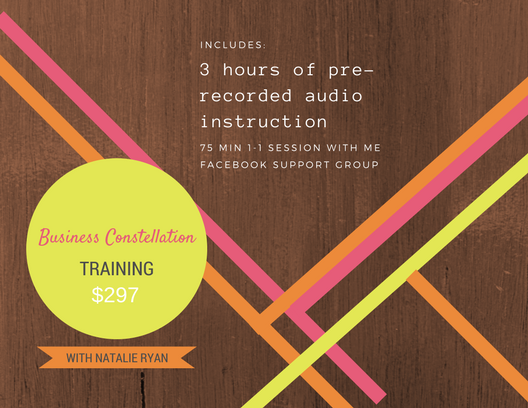 When multi-employee businesses and corporations are not functioning well, it is likely that there is something askew in the dynamics. Just like a family, a business has it's own system, and if something is out of order, it can hinder the financial abundance and employee satisfaction. This short training will teach you how to work with these dynamics so that the business can flow once and for all. This course is limited to students who have fct training and background only. If you are seeking a constellation for your business, contact me directly for that. Program is $297 and includes: 3 hours of pre-recorded audio, a facebook group, and a 75-min 1-1 phone session for personal or professional guidance.
---